Hello, all my friend, how are you?
David Beckham was in tears on Sunday night when his dream of being the first England player to appear in four World Cups was wrecked after he suffered a ruptured achilles tendon.

The former England captain limped to the touchline during AC Milan's 1-0 win over Chievo and he was reported to have said 'It's broken, it's broken' as he came off.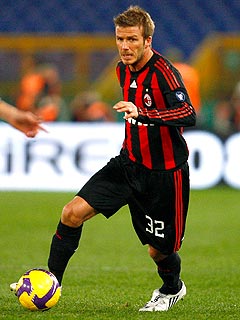 When to passing,
Owh no!!
AC Milan's David Beckham is assisted by a team's staff as his coach Leonardo looks on after being injured during the team's match with against Chievo in the Italian series A soccer match in Milan on Sunday. (Reuters)
MILAN, Italy: David Beckham left a Milan hotel on crutches Monday and headed to the airport for a flight to Finland for surgery on his torn left Achilles' tendon, an injury likely to keep him out of the World Cup.
The 34-year-old former England captain was injured in the closing minutes of AC Milan's 1-0 win over Chievo Verona on Sunday.
With his hopes of becoming the first English player to appear in four World Cups shattered and his future in international football in doubt, Beckham was scheduled to be operated on either later Monday or Tuesday morning by specialist surgeon Dr. Sakari Orava.
"We have to wait for the results of the scan, but it looks like he is out of the World Cup," England coach Fabio Capello said Monday. "David is a great professional and has worked very hard to be ready for the World Cup, so missing it will be a big blow." Orava told Finnish broadcaster YLE on Monday that, although it's not realistic to expect Beckham to be fit for the World Cup just three months after surgery, there remains "a glimmer of hope" that he could be back for the June 11-July tournament in South Africa.
Beckham, who has been staying at the Principe di Savoia hotel during his second loan stint with Milan, left with a grimace on his face, getting into a car with his father for the trip to Finland.
Wearing jeans, a white hooded shirt and a hat, Beckham got into the front seat with a bit of difficulty and his father got into the back seat. Beckham's luggage was loaded into a separate car.
Beckham did not respond to questions, never making eye contact with assembled media.