Owh what happen today!! where the peace now??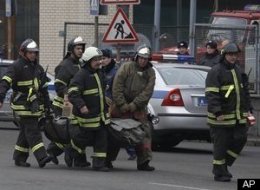 MOSCOW — Two female suicide bombers blew themselves up Monday in twin attacks on Moscow subway stations jam-packed with rush-hour passengers, killing at least 37 people and wounding 102, officials said. They blamed the carnage on rebels from the Caucasus region.
The blasts come six years after Caucasus Islamic separatists carried out a pair of deadly Moscow subway strikes and raise concerns that the war has once again come to Russia's capital, amid militants' warnings of a renewed determination to push their fight.
Chechen rebels claimed responsibility for a deadly bombing late last year on a passenger train en route from Moscow to St. Petersburg.
Prime Minister Vladimir Putin, who built much of his political capital by directing a fierce war with Chechen separatists a decade ago, vowed Monday that "terrorists will be destroyed."
The first explosion took place just before 8 a.m. at the Lubyanka station in central Moscow. The station is underneath the building that houses the main offices of the Federal Security Service, or FSB, the KGB's main successor agency.
A second explosion hit the Park Kultury station about 45 minutes later.
"I heard a bang, turned my head and smoke was everywhere. People ran for the exits screaming," said 24-year-old Alexander Vakulov, who said he was on a train on the platform opposite the targeted train at Park Kultury.
"I saw a dead person for the first time in my life," said 19-year-old Valentin Popov, who had just arrived at the station from the opposite direction.
The iconic Moscow subway system is one of the world's busiest, carrying around 7 million passengers on an average workday, and is a key element in running the sprawling and traffic-choked city.